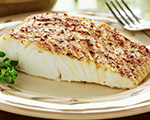 Prep: 30 min
Cook Time: 13 min
Total: 43 min
Serving: 4 Servings
Enjoy these delicious halibut fillets, roasted and coated in a thyme and sesame crust. Serve with a side of steamed vegetables drizzled with olive oil.
Ingredients
2 tablespoons lemon juice
2 tablespoons extra-virgin olive oil
1 clove garlic, minced
Freshly ground pepper to taste
1-1/4 pounds halibut, cut into 4 portions
2 tablespoons sesame seeds, toasted
2 teaspoons dried thyme leaves
1/4 teaspoon coarse sea salt
Directions
In a glass dish, whisk together the lemon juice, oil, garlic and pepper, and then add the fish to coat. Let the fish marinate for 20 minutes, turning after 10 minutes.
Meanwhile preheat the oven to 450 and line an oven pan with parchment paper.
Place the sesame seeds and the thyme in a shallow bowl and mix to combine.
Remove the fish from the marinade and sprinkle both sides with salt, then dip into the sesame seed mixture, pressing firmly to coat.
Place the fish on the prepared baking pan and cook for 13 minutes. Remove from the oven and serve immediately.