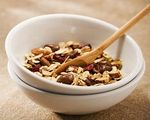 Prep: 10 min
Cook Time: 30 min
Total: 40 min
Serving: 4
This is a homemade version for a healthy granola.
Ingredients
2 cups puffed rice
1-1/3 cups bran flakes
1/2 cup oil fashioned rolled oats
1/4 cup raisins
2 tablespoons toasted wheat germ
1/2 cup apple juice
2 tablespoons honey
Directions
In medium bowl, combine the puffed rice, bran flakes, oats, raisins and wheat germ.
In small bowl, stir togethr the apple juice and honey.
Pour over the puffed rice mixture and toss until moistened.
Spray a 15 by 10 inch baking pan with non stick spray.
Spread the puffed rice mixture in the pan.
Bake at 300 degrees F. for 30 minutes or until golden brown.
Stir mixture twice during baking.
Transfer the granola to a container and cover loosely.
Store at room temperature util ready to serve.