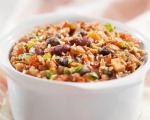 Prep: 30 min
Cook Time: 45 min
Total: 1 hr 15 min
Serving: 8
From Good Housekeeping, this freeze-now, serve-later chili has plenty of delicious, nutritious goodness with edamame and reduced fat cheese.
Ingredients
1 tablespoon vegetable oil
1 pound carrots, cut into 1/2-inch dice
2 large stalks celery, sliced
2 cloves garlic, crushed with press
1 (1-pound) jumbo onion, chopped
4 teaspoons chili powder
1 tablespoon ground cumin
1/2 teaspoon ground cinnamon
1/4 teaspoon ground red pepper
1 teaspoon salt
1 can (14 1/2-ounce) diced tomatoes
1 can (14- to 14 1/2-ounce) vegetable broth
1 cup water
2 cans (15- to 19-ounce) white kidney beans (cannellini), rinsed and drained
1 can (15- to 19-ounce) pink beans, rinsed and drained
2 cups frozen shelled edamame (soybeans)
1/4 cups fresh cilantro leaves, chopped (plus additional leaves for garnish)
reduced-fat sour cream (optional)
shredded reduced-fat Cheddar cheese (optional)
Directions
In 5- to 6-quart Dutch oven, heat vegetable oil on medium-high until hot. Add carrots, celery, garlic, and onion, and cook 10 to 12 minutes or until all vegetables are browned and tender, stirring occasionally.
Stir in chili powder, cumin, cinnamon, ground red pepper, and salt; cook 30 seconds, stirring. Add tomatoes, broth, and water; heat to boiling. Reduce heat to low; cover and simmer 15 minutes. Stir white kidney beans and pink beans into Dutch oven; cover and cook 10 minutes longer. Stir in frozen edamame and cook, uncovered, 5 to 7 minutes or until edamame are just tender, stirring occasionally.
Stir 1/4 cup cilantro into chili. Spoon half of chili into serving bowls; garnish with cilantro leaves. Serve with sour cream and Cheddar, if you like. Spoon remaining chili into freezer-safe containers.