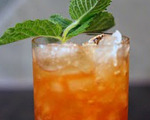 Prep: 5 min
Cook Time: –
Total: 5 min
Serving: 1 Serving
A well-balanced rum-based cocktail with a strong aroma of mint, enjoy this vibrantly-colored and aromatic beverage's complex flavor and rich depth.
Ingredients
3 ounces demerara rum
3/4 ounce lime juice
1/2 ounce simple syrup
Angostura bitters
Lime wedge
Fresh Mint Sprig plus 1 to garnish
Directions
Place the lime wedge and a fresh mint sprig into a tall cocktail glass and then add the rum, fresh lime juice, simple syrup and bitters.
Fill the glass with crushed ice and then swizzle the drink by placing a long multi-pronged stirrer between your two palms and rubbing back and forth. Swizzle the drink for 20 seconds to chill.
Garnish the cocktail with a mint sprig and serve immediately.