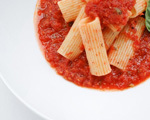 Prep: 10 min
Cook Time: 1 hr 15 min
Total: 1 hr 25 min
Serving: Sauce for 1 pound of pasta
This recipe creates a gorgeous fresh Italian marinara sauce that only needs its pasta partner and a crisp sauvignon blanc to accompany.
Ingredients
3 tablespoons olive oil
4 tablespoons onion, minced
1 teaspoon sea salt
1 teaspoon fresh ground black pepper
1/4 teaspoon red pepper
4 cloves garlic, minced
1 32 ounce can Italian plum tomatoes, puréed
2 tablespoons parsley, chopped
3 tablespoons basil, chopped
Directions
Place the oil into a saucepan over very low heat and then add the onion, garlic and salt.
Sauté the mixture for 15 minutes and then stir in the pepper and crushed red pepper flakes.
Add the pureed tomatoes to the saucepan and stir to combine with the onion mixture.
Sprinkle in the parsley and 1 tablespoon of the basil and then simmer the sauce, partially covered, for 1 hour.
Remove the pan from the heat and add the reaming basil. Stir to combine and serve.