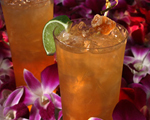 Prep: 5 min
Cook Time: –
Total: 5 min
Serving: 1 Serving
A famous cocktail served at the LA restaurant the Tar Pit; this tropical drink is both fun and delicious,
Ingredients
2-1/2 ounces aged white Martinique rum
1/2 ounce 151-proof Lemon Hart Demerara rum
1/2 ounce green Chartreuse
1-1/2 ounces ginger beer
3/4 ounce freshly squeezed lime juice
3/4 ounce Demerara simple syrup
1/8 teaspoon Cholula Mexican hot sauce
2 dashes angostura bitters
Crushed ice
1 piece candied ginger, for garnish
1 lime wedge, for garnish
Directions
Place all of the ingredients, except for the ice and garnishes, into a tall cocktail glass.
Add enough crushed ice to fill the glass halfway to the top and then blend the mixture with a long spoon.
Add additional ice to the mixture and stir once more.
Add the piece of candied ginger and lime wedge to the rim of the cocktail to garnish.