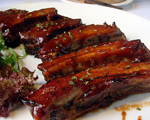 Prep: 15 min
Cook Time: 2 hr 30 min
Total: 2 hr 45 min
Serving: 6-8 Servings
If you are planning to host a barbeque party than this recipe for baby back ribs is the way to go. The sticky sweet and savory sauce pairs perfectly with corn on the cob, cool potato salad and cold beer.
Ingredients
6 pounds baby back ribs
2 cups water
1 clove garlic, minced
1 medium onion, minced
5 tablespoons butter
3-1/2 cups catsup
1/2 cup dark corn syrup
1/2 cup honey
1/2 cup pineapple juice
1/3 cup cider vinegar
1 cup brown sugar, firmly packed
2 tablespoons spicy mustard w/horseradish
2 tablespoons Worcestershire sauce
1 tablespoon chili powder
2 teaspoons salt
1 teaspoon cayenne pepper
1 teaspoon liquid smoke
1/2 teaspoon black pepper
Directions
Preheat the oven to 350 degrees.
Cut the rib slabs in half, leaving about 6 per section. Evenly place the ribs in a roasting pan and add the water. Cover the pan tightly with foil and bake for 3 hours.
Meanwhile melt the butter in a large pot over medium-high heat and sauté the onions and garlic for about 5 minutes, or until onions are soft and translucent.
Add the rest of the ingredients and bring to a boil.
Once the mixture boils for 1 minute, reduce heat to low and simmer for 30 minutes making sure to stir frequently to prevent sticking.
Remove pot from heat and set aside to cool.
Remove the ribs from the oven and discard the water. Pour the sauce over the ribs and mix to coat thoroughly. Grill the ribs for approximately 6 minutes per side and serve immediately.