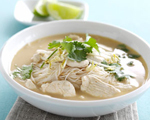 Prep: 25 min
Cook Time: 28 min
Total: 53 min
Serving: 4 Servings
This creamy Thai dish is spicy, savory and sweet all at the same time. Served over noodles, it is the perfect soup starter for a Thai-themed dinner party.
Ingredients
6 cups chicken broth
2 Thai peppers, seeded and finely chopped
3-1/2 cloves garlic, chopped
1 tablespoon grated ginger
2 teaspoons grated lemon zest
1 teaspoon grated lime zest
1/4 cup fresh lime juice
4 tablespoons Thai fish sauce, divided
1/2 pound shiitake mushrooms, sliced
2 boneless, skinless chicken breasts cut into thin strips
1 cup light coconut milk
2 cups baby spinach
2 tablespoons chopped cilantro plus 2 tablespoons to garnish
Directions
Fill a bowl with warm water and add the noodles. Leave the noodles in the water for 15 minutes to soften and then drain.
In a large saucepan add the broth, pepper, garlic, ginger, lemon zest, lime zest, lime juice, 3 tablespoons fish sauce and a sprinkle of salt, and bring to a simmer over medium heat. Cook for 2 minutes and then add the noodles, cooking for an 3 additional minutes. Remove noodles and place in a bowl, covered, to keep warm.
Add the chicken and coconut milk to the pan and bring to a simmer. Cook for 4 minutes and then add the spinach and cook for an additional 1 minute. Stir in the cilantro and the remaining 1 tablespoon of fish sauce and mix to combine.
Split the noodles into 4 even portions and place in serving bowls. Ladle with the soup and sprinkle some cilantro on the top to garnish.