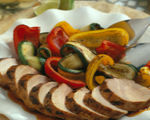 Prep: –
Cook Time: –
Total: –
Serving: 4
Do you love Thai food? It's not as difficult to make as you might think. You can cook this simple Thai pork dish at home. For a tasty meal, serve it with a side of grilled vegetables and fresh fruit salad. This recipe is sponsored by the National Pork Board.
Ingredients
3/4-1 pound pork tenderloin
1/4 cup soy sauce
3 tablespoons lime juice
2 tablespoons minced fresh cilantro
1 tablespoon brown sugar
1 tablespoon minced jalapeno chile
1 garlic clove, minced
1 tablespoon grated fresh ginger root
1 teaspoon sesame oil
2 medium zucchini, trimmed, cut lengthwise into 1/4-inch slices
1 yellow bell pepper, seeded, cut into 6-8 pieces
1 red bell pepper, seeded, cut into 6-8 pieces
Fresh cilantro sprigs, for garnish
Directions
In medium bowl, combine soy sauce, lime juice, minced cilantro, brown sugar, jalapeno, garlic, grated ginger and sesame oil.
Reserve 4 tablespoons soy mixture, set aside. Put remainder of soy mixture with tenderloin in a self-sealing plastic bag. Refrigerate for 30 minutes or as long as overnight.
Prepare grill with medium-hot fire. Remove pork from marinade; discarding marinade. Grill 8-10 minutes per side or until meat thermometer inserted in thickest part reads 155 degrees F. (total time about 20-25 minutes)
Brush vegetables with reserved soy mixture and grill 4-5 minutes per side or until tender and starting to brown.
To serve, slice tenderloin into 3/4-inch slices. Fan slices around outside edge of serving platter; place grilled vegetables in center. Garnish with fresh cilantro, if desired.