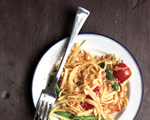 Prep: 20 min
Cook Time: –
Total: 20 min
Serving: Serves 4-6
You'll need small dried shrimp to add sweet and unique flavor to this Thai salad recipe with mango. Find them at Asian food stores or order online.
Ingredients
2 tablespoons small dried shrimp
8 red Thai chiles, stemmed, seeded, and julienned
4 cloves garlic, minced
1⁄2 shallot, minced
3 small, green unripe mangoes (about 1-1⁄2 lbs.), peeled and julienned
18 green beans, trimmed and cut into 2-inch lengths
14 grape tomatoes, halved
3 tablespoons fish sauce
2 tablespoons fresh lime juice
4 teaspoons palm sugar or brown sugar
2 tablespoons roasted unsalted peanuts, chopped
Directions
Use a mortar and pestle to grind the dried shrimp and then set aside.
Put the chiles, garlic, and shallots into the mortar and pestle and pound well until mashed, then slowly add some of the mangoes and continue to pound the mixture until soft. Transfer to a salad bowl.
Place the green beans and the tomatoes into the mortar and pestle and pound unitl mashed yet still chunky. Add the fish sauce, lime juice, and sugar, muddle to combine and then place into the bowl with the mango mixture.
Toss the mixture well to combine and then serve topped with the crushed dried shrimp and the chopped roasted peanuts.