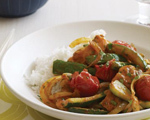 Prep: 15 min
Cook Time: 10 min
Total: 25 min
Serving: 4 Servings
This Thai-inspired chicken and vegetable curry dish is a great weeknight dinner solution when you're short on time but don't want to lose out on flavor or taste. Serve over fresh steamed rice.
Ingredients
3 tablespoons olive oil
1-1/4 pounds skinless, boneless chicken breasts, sliced crosswise 1/3 inch thick
Salt and freshly ground pepper
1 onion, sliced 1/4 inch thick
2 zucchini 2-by-1/2-inch sticks, 1 pound cut into
1-1/2 cups cherry tomatoes
1 tablespoon Thai red curry paste
1/2 cup unsweetened coconut milk
2 tablespoons water
Finely grated zest of 1 lime
1 tablespoon fresh lime juice
1/2 cup chopped cilantro
Directions
Place 2 tablespoons of olive oil into a large sauté pan over high heat. Once the oil begins to shimmer, add the chicken, sprinkle with some salt and pepper, and cook for 2 minutes. Remove the chicken from the pan and transfer to a plate.
Put the remaining oil into the skillet, reduce the heat to medium-high and add the onion. Sauté for 2 minutes and then stir in the zucchini and cherry tomatoes and cook for 2 minutes more.
Add the curry paste, coconut milk, water, lime zest and lime juice, stir to combine, and then simmer the mixture for 1 minute. Transfer the chicken back to the pan, cook for 1 minute and then remove the sauté pan from the heat.
Add the cilantro, stir to combine and then serve immediately.