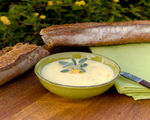 Prep: 15 min
Cook Time: 40 min
Total: 55 min
Serving: 8
You'll taste the Thai flavors in this dish.
Ingredients
1/2 tbsp. Oil, olive (.35 oz)
1 fluid ounce Lime, juice, freshly squeezed
1/2 ounce Lemon grass, finely minced
1/2 tbsp. Ginger, finely minced (.25 oz)
1/2 tsp. Red Curry Paste
8 ounces Chicken, breast, thinly sliced, strips
3/4 qt. Stock, chicken
2 lbs. Mashed Potatoes, seasoned
1 ounce Peanut Butter, reduced fat, chunky
3/4 cup carrots and peas
1 ounce Onions, green, thinly sliced
Directions
Whisk together the oil, lime juice, lemon grass, ginger and curry paste in a small bowl.
Coat the chicken breast strips with the mixture, cover and refrigerate to marinade for 1 to 2 hours.
Heat a large stock pot; add the chicken with marinade and cook quickly until heated through.
Add the stock and Mashed Potatoes to the cooked chicken bring the chowder slowly to a boil, simmer for 10 minutes.
Stir the peanut butter into the chowder until melted and incorporated.
Just before serving, remove from the heat and stir in the carrots and peas and green onions.