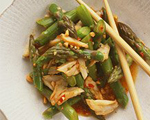 Prep: 10 min
Cook Time: 2 min
Total: 12 min
Serving: Serves 4
This is a light and easy dish with many layers of flavors that make it ideal for a lunch with guests or a starter at your next dinner party.
Ingredients
1/2 pound cooked lump crabmeat
1/2 tablespoon rice wine
1 tablespoon soy sauce
1-1/2 teaspoons lemon juice
1 Thai chile, finely minced
1 green onion, minced
1 pound thin asparagus spears, trimmed and cut into 1-inch lengths
1/4 cup honey-roasted chopped nuts of your choice
Directions
In a medium bowl, combine the crabmeat, rice wine, soy sauce, lemon juice, chili, and green onion; mix well.
Bring a large saucepan of salted water to a rolling boil, and blanch the asparagus for 2 minutes. Remove asparagus from the boiling water, rinse with cold water and pat dry with a paper towel.
In a large serving bowl, toss the asparagus with the crabmeat mixture. Top with the honey-roasted nuts and serve.