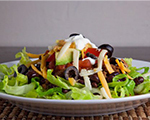 Prep: 15 min
Cook Time: 9 min
Total: 24 min
Serving: 4 Servings
This a quicker and healthier version of classic Taco salad. Serve with a side of baked tortilla chips and some wedges of lime.
Ingredients
1/2 cup prepared salsa
2 tablespoons reduced-fat sour cream
1/2 teaspoon olive oil
1 small onion, chopped
2 cloves garlic, minced
8 ounces lean ground beef or turkey
1 large plum tomato, diced
1/2 cup canned kidney beans, rinsed
1 teaspoon ground cumin
1 teaspoon chili powder
1/8 teaspoon salt
2 tablespoons chopped fresh cilantro
4 cups shredded romaine lettuce
1/4 cup shredded sharp Cheddar cheese
Directions
In a large bowl, mix together the sour cream and the prepared salsa until well combined.
Place a large sauté pan over medium-high heat and add the oil. Sauté the onion and garlic for 2 minutes and then add the beef and cook for an additional 5 minutes.
Stir in the tomato, beans, cumin, chili powder and salt and cook for 2 minutes.
Remove the pan from the heat and stir in the fresh cilantro and 2 tablespoons of the sour cream mixture.
Divide the lettuce evenly between 4 plates and top with the remaining sour cream dressing and the meat mixture. Sprinkle with the shredded cheddar cheese and serve.