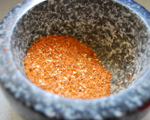 Prep: 5 min
Cook Time: 3 min
Total: 8 min
Serving: Rub for 12 pounds of meat
This dry spice rub is the perfect bend of piquant flavor with mild heat. Coat your meat of choice with this mixture prior to grilling for exceptional flavor and juicy taste.
Ingredients
2 tablespoons cumin seeds
2 tablespoons chili powder
2 tablespoons paprika
1 tablespoon mustard seeds
1 tablespoon coriander seeds
2 tablespoons sea salt
2 tablespoons packed brown sugar
1 tablespoon garlic salt
2 teaspoons cayenne pepper
Directions
Place the cumin seeds, chili powder, paprika, mustard seeds, and coriander seeds into a large sauté pan over medium-high heat and toast the mixture for 2-1/2 minutes, shaking the pan occasionally, until the spices begin to smoke.
Transfer the mixture to a spice grinder and then add the salt, brown sugar, garlic salt, and cayenne. Process the mixture until coarsely ground and then use immediately.