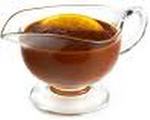 Prep: 25 min
Cook Time: 25 min
Total: 50 min
Serving:
Texas Bourbon Baste is a savory sauce that goes great with beef.
Ingredients
8 tablespoons butter
1 cup beef bouillon
1 tablespoon dry mustard
1/2 teaspoon cayenne pepper
1 bay leaf, crushed
1 large onion, chopped fine
2 tablespoons Worchestershire sauce
3 jalapeno peppers, minced
1 cup bourbon
1/4 cup lemon juice
2 tablespoons chili powder
2 tablespoons sugar
3 garlic cloves, minced fine
black pepper to taste
Directions
Melt butter in a large saucepan over medium heat. Stir in bouillon, bourbon, Worchestershire sauce and lemon juice. Mix well and add chili powder, cayenne and sugar. Stir and add bay leaf.
Bring to a simmer and add garlic, onion and jalapeno peppers. Simmer uncovered for 15 minutes. Add black pepper to taste.