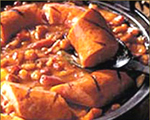 Prep: 10 min
Cook Time: 30 min
Total: 40 min
Serving: 7 servings
A great weeknight dinner dish for all the cowboys in your family, both young and old.
Ingredients
8 ounces smoked sausage links, cut into chunks
1-1/2 cups coarsely chopped onions
3/4 cup bottled barbecue sauce
2 tablespoons pancake syrup
2 tablespoons water
1 tablespoon cider vinegar
1 can (15 to 16 oz) red kidney beans, rinsed
1 can (15 to 16 oz) pinto beans, rinsed
1 can (15 to 16 oz) black beans, rinsed
Shredded cheddar cheese to garnish
Directions
Place a large skillet over medium-high heat.
Once the pan is hot, add the sausage and cook, turning once, for 3 minutes. Transfer to a bowl and set aside.
Place the onions into the pan, cover and cook for 8 minutes, stirring occasionally to prevent sticking.
Stir in the barbecue sauce, syrup, water and vinegar and bring the mixture to a boil.
Add the beans and the sausage to the pan, cover and cook for 15 minutes over medium heat, stirring often.
Ladle the mixture into bowls and serve hot topped with shredded cheddar cheese.