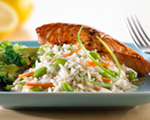 Prep: –
Cook Time: 30 min
Total: 30 min
Serving: 6 People
Show your heart you care, try this terrific, heartwarming recipe for teriyaki salmon with gingered vegetables, loaded with heart-healthy omega-3s, folic acid and whole grains.
Courtesy of the USA Rice Federation
Ingredients
1/4 cup low-sodium teriyaki sauce
3/4 cup sliced green onions, divided
1 1/2 teaspoons minced ginger, divided
1 1/2 pounds fresh salmon fillets, cut in 6 pieces
3 tablespoons low-fat olive oil and vinegar dressing
3 cups hot cooked white or brown rice
1 cup shelled edamame beans* or diagonally sliced snow peas
1/2 cup shredded carrots
1/4 cup sliced green onions
Salt and pepper to taste
Directions
In shallow bowl, mix teriyaki sauce, 1/4 cup of green onions and 3/4 teaspoon ginger; place salmon fillets in teriyaki mixture and marinate 15 to 20 minutes, turning occasionally. In a large bowl, combine dressing and remaining ginger; add hot rice, edamame beans, carrots, and remaining green onions; toss well. If desired, add salt and pepper to taste. Cover to keep warm.
Remove salmon from marinade; grill or pan sear salmon over medium-high heat 3 to 4 minutes on each side, drizzling with 1 tablespoon of marinade, until cooked through but moist and tender; discard remaining marinade. Serve salmon with rice mixture.
If desired, serve with steamed broccoli.
*Edamame beans may be found in the produce section or freezer case of your grocery store.