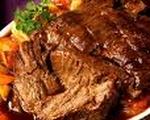 Prep: 15 min
Cook Time: 1 hr 45 min
Total: 2 hr
Serving: 8
Make a lot of creamy mashed potatoes to go with Teriyaki Pot Roast.
Ingredients
2 tablespoons vegetable oil
1, 3 pound rump or eye of round roast
1/2 teaspoon salt
coarsely ground black pepper
1 medium onion, chopped
1 tablespoon dark brown sugar
1 tablespoon cornstarch
1 1/2 teaspoon beef bouillon granules
1/2 teaspoon ground ginger
1/4 cup soy sauce
1/4 cup water
1, 8 ounce can water chestnuts, drained
1 pound carrots, cut into 3 inch pieces
Directions
Preheat oven to 350 degrees F. Heat oil in a Dutch oven over medium-high heat.
Season roast with salt and pepper. Place roast and onion in a Dutch oven and brown roast on all sides, stirring onion occasionally.
Combine brown sugar, cornstarch, bouillon, ginger, soy sauce and water in a small bowl. Whisk until cornstarch dissolves. Add water chestnuts and pour over roast. Bake, covered, 1 hour.
Add carrots and cook 45 minutes, or until tender. Remove roast from oven and let rest 10 minutes. Place on a cutting board and slice. Arrange on a serving platter with carrots surrounding roast. Serve gravy alongside roast.