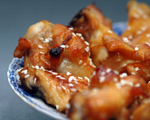 Prep: 30 min
Cook Time: 20 min
Total: 50 min
Serving: Serves 4
Serve these wings at a party or make just for the family; no matter who's your audience, these wings will be a hit.
Ingredients
1/3 cup lemon juice
1/4 cup soy sauce
1/4 cup vegetable oil
3 tablespoons chili sauce
1 clove garlic, finely chopped
1/4 teaspoon pepper
1/4 teaspoon celery seed
Dash of dry mustard
3 pounds chicken wings
2 tablespoons sesame seeds
Directions
For the marinade: Combine the lemon juice, soy sauce, oil, chili sauce, garlic, pepper, celery seed and mustard in a jar, screw on cap and shake well to mix; set aside.
Cut the chicken wings at the joint and remove the wing tips.
Place wings in a large baking dish and pour marinade over the chicken. Cover and refrigerate overnight.
Prepare oven broiler.
Place chicken wings on broiler tray and place tray approximately 7 inches from heating element. Broil wings for 10 minutes on each side, brushing each side once with the marinade. Remove from oven, sprinkle with sesame seeds and serve.