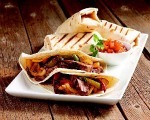 Prep: 4 hr 10 min
Cook Time: 15 min
Total: 4 hr 25 min
Serving: Serves 4 people
Tequila-citrus beef fajitas are perfect for warm-weather night out on the patio. The great flavors and easy prep make this recipe an entertainer's delight.
Ingredients
12 ounces beef flank steak
3 tablespoons orange juice
3 tablespoons tequila
2 tablespoons lime juice
1 teaspoon grated fresh ginger
1/2 teaspoon dried oregano
1/8 teaspoon ground red pepper
1 clove garlic, minced
8 (8-inch) tortillas
1/2 a red bell pepper, cut into strips
1/2 a small onion, sliced and separated into rings
Directions
First score the beef on both sides. Place the beef in a plastic freezer-type bag on a shallow dish. To make the marinade, use a small bowl to mix together the orange juice, tequila, lime juice, ginger, oregano, salt, pepper and garlic. Pour the mixture into the bag to cover the beef. Seal the bag and massage it with your hands to help coat the beef. Refrigerate the beef and marinade for about 4 hours in the refrigerator. Turn it occasionally.
Preheat your grill to medium heat. Drain the marinade from the beef and reserve the marinade. Grill the beef on medium heat of an uncovered grill until desired doneness, turning it one time. When cooked, thinly slice the beef on the diagonal across the grain.
Wrap the tortillas in foil and place them on the grill for only a few minutes until they're heated through.
Pour the reserved marinade into a small saucepan. Add the bell pepper and onion and bring the mixture to a boil. Simmer, uncovered, for about 5 minutes or until the vegetables are tender.
Add the beef to the warmed tortillas and spoon the vegetable mixture over them with some of the sauce. Roll them up and serve them warm.