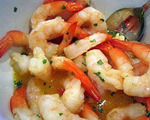 Prep: 5 min
Cook Time: –
Total: 5 min
Serving: Makes marinade for 1 pound of shrimp
Tequila, honey, fresh lime juice, garlic, cilantro and Tabasco make for a flavor-intensive shrimp marinade recipe. If using frozen shrimp, defrost them first in the refrigerator for a few hours before marinating.
Ingredients
1 tablespoon Tequila
3 tablespoons Fresh Lime Juice
4 tablespoons Honey
2 tablespoons Tabasco Original Red
1 clove garlic, Peeled and Finely Chopped
1 tablespoon Finely Chopped Cilantro
1 tablespoon Olive Oil
Directions
Place the tequila, lime juice, honey, Tabasco, garlic, cilantro and olive oil into a bowl and whisk vigorously until thoroughly blended.
Add the shrimp to the bowl, toss to coat and then cover the bowl and place in the refrigerator for 2-3 hours. Discard marinade after using.