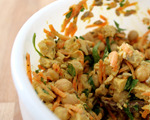 Prep: 10 min
Cook Time: 5 min
Total: 15 min
Serving: 4 Servings
Tempeh is a fiber-rich cake of fermented soybeans that can be easily sliced and added to dishes like this carrot and garbanzo bean salad.
Ingredients
3 tablespoons mayonnaise
2 tablespoons Dijon mustard
4 tablespoons apple cider vinegar
16 ounces tempeh, chopped into small cubes
1 (15-ounce) can garbanzo beans, rinsed and drained
1 large carrot, shredded
1/4 cup sunflower seeds
Salt and fresh pepper to taste
1/2 cup chopped fresh herbs
Directions
Place the sunflower seeds in a small skillet and toast over medium heat, stirring often, until golden and fragrant.
Put the mayonnaise, mustard and vinegar into a small bowl and whisk well to blend.
In another bowl, combine the garbanzo beans, tempeh, carrot, and toasted sunflower seeds. Top with the dressing, herbs and a few pinches of salt and pepper, and then toss well to combine.