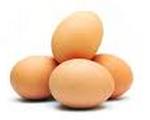 Prep: 48 hr
Cook Time: 25 min
Total: 48 hr 25 min
Serving: 12
Tea Eggs make a delicious appetizer when sliced and served on crackers. Add a dollop of mayonaise and a sprinkle of curry powder.
Ingredients
12 eggs
water
6 tea bags
1/2 cup salt
1/2 cup soy sauce
Directions
In a 4 quart saucepan place eggs and enough water to come 1 inch above tops of eggs; over high heat, heat to boiling. Remove saucepan from heat and cover tightly. Let eggs stand in hot water for 15 minutes; drain.
Run cold water over eggs to stop them from cooking and make them easier to handle. With back of spoon, lightly tap egg to crack entire shell. Don't remove shell. Repeat with remaining eggs; set aside.
In same 4 quart sauce pan over high heat, heat tea bags, salt, soy sauce and 4 cups water to boiling. Remove saucepan from heat; add cracked eggs. Cover and refrigerate overnight or up to 2 days.