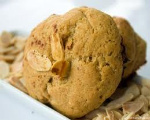 Prep: 15 min
Cook Time: 20 min
Total: 35 min
Serving: 8-9 dozen
Light and crisp tea cookies with finely chopped nuts.
Ingredients
3 cups sugar
2 cups shortening
2 teaspoons vanilla
4 eggs
5 1/2 cups flour
4 teaspoons cream of tartar
2 teaspoons baking soda
1/2 teaspoon salt
1 cup finely chopped almonds, walnuts or pecans
Powdered sugar (optional)
Directions
Preheat the oven to 375 degrees Fahrenheit.
Cream the sugar, shortening and vanilla together. Beat in the eggs, one at a time. Beat the mixture until smooth.
Sift together the flour, cream of tartar, baking soda and salt. Mix in the nuts.
Beat the flour mixture into the sugar mixture until well combined.
Shape into 1 inch balls and place 2 inches apart on cookie sheets.
Bake for 8-10 minutes. Remove and cool on wire racks.
Sprinkle with powdered sugar to serve.