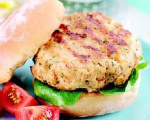 Prep: 15 min
Cook Time: 20 min
Total: 35 min
Serving: Serves 4
Add a twist to hamburger night by making some of these delicious, juicy turkey burgers!
Ingredients
1 slice whole wheat bread, crumbled into small pieces
2 tbsp. milk, any kind
2 tbsp. balsamic vinegar
2 tsp. Worcestershire sauce
2 tsp. hot sauce
20 ounces lean ground turkey meat
4 tbsp. finely shredded carrot
1 large onion, minced + 1 tbsp. olive oil, sautéed until onion is soft
Freshly ground black pepper
4 whole-wheat buns or pita bread, toasted
Directions
Place the whole wheat bread crumbs and milk into a large bowl. Add the remaining ingredients except whole wheat buns. Mix well until thoroughly combined.
Form Turkey mix into 4 (5-ounce) burgers. Cover and set aside.
Heat a large nonstick skillet over medium-high heat for 1 minute. Brush one side of the burgers with the oil and season with salt and pepper, to taste. Cook seasoned side down until browned, about 2 minutes. Brush and season the top of the burgers flip and cook until other side is brown, about 2 minutes more.
Transfer burgers to a baking dish and bake until an instant-read thermometer inserted sideways into the burgers registers 160 degrees F, about 5 minutes. Place the burgers on the buns or in a pita and let rest for a few minutes.
Serve with garnish of your choice. (Lettuce, tomato, mustard, ketchup).