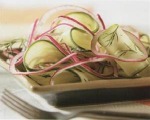 Prep: 2 hr 15 min
Cook Time: –
Total: 2 hr 15 min
Serving: Serves 4 people
If you love pickles, this may be the salad for you! Tart Cucumber & Dill Salad is fresh with just a hint of vinegar to make your mouth pucker.
Ingredients
2 small cucumbers, thinly sliced (try to use smooth-skinned cucumbers)
3 onions, thinly sliced
5-6 tablespoons cider vinegar
2-3 tablespoons chopped fresh dill
Salt & pepper to taste
Directions
In a medium-sized bowl, combine the sliced cucumbers and onions. Season with salt & pepper and toss to combine. Allow to stand in a cool place for about 10 minutes.
In a small bowl combine the vinegar and 2-3 tablespoons water. Toss over the cucumber-onion mixture and combine. Garnish with fresh dill, combine again, and allow to chill in the refrigerator for a few hours prior to serving.