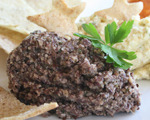 Prep: 24 hr 10 min
Cook Time: 12 min
Total: 24 hr 22 min
Serving: Makes 3 cups
This tasty Tapenade with a Twist recipe is made with a base of mixed mushrooms to give it wonderful texture and a unique and hearty consistency. Use it as a spread or toss it with hot pasta for a wonderful additional of flavor.
Ingredients
7 tablespoons olive oil, divided
1/2 pound fresh cremini mushrooms, quartered
1/2 pound fresh shitake mushrooms, quartered
2 tablespoons of a combination of fresh minced herbs, such as thyme, rosemary, oregano, marjoram
4 large garlic cloves, chopped
2-1/4 teaspoons salt
1/2 teaspoon freshly ground black pepper
1/3 cup dry red wine
1/2 pound brine-cured black Greek Kalamata olives, pitted
2 tablespoons small capers, rinsed and patted dry
2 tablespoons plus 1-1/2 teaspoons freshly squeezed lemon juice
Directions
Place 3 tablespoons of olive oil in a large sauté pan over medium-high heat. Once it begins to shimmer, add the mushrooms, herbs, garlic, salt and pepper, and cook the mixture for 5 minutes.
Pour the wine into the pan and cook the mushrooms over medium-low heat for 7 minutes, or until the liquid has evaporated. Remove the pan from the heat and set aside to cool.
Place the cooled mushroom mixture, olives, capers and lemon juice into a food processor, and process until finely chopped. With the processor on, slowly pour the remaining oil down the processor flute and process until blended.
Transfer the Tapenade to a bowl, cover and place in the refrigerator for 24 hours to allow the flavors to meld. Serve at room temperature.