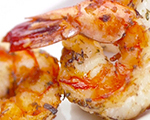 Prep: 10 min
Cook Time: 8 min
Total: 18 min
Serving: 4 Servings
An amazing appetizer or starter to a 3-course meal, these spicy jumbo shrimp are served with a coconut dipping sauce made with wasabi, ginger and lime.
Ingredients
1/3 cup unsweetened coconut milk
1 teaspoon cornstarch
3 teaspoons wasabi paste
2 teaspoons fresh grated ginger
2 tablespoons lime juice
1 pound fresh jumbo shrimp, peeled and deveined
2 teaspoons cooking oil
1 tablespoon soy sauce
1 tablespoon minced garlic
Directions
In a small saucepan, mix together the coconut milk and the cornstarch and cook over low heat for 4 minutes, stirring frequently. Set aside the mixture to cool.
In the meantime, combine the wasabi paste, the ginger and 1 tablespoon of the lime juice in a small bowl.
Slowly whisk in the coconut mixture to the wasabi mixture until well blended.
In a large sauté pan or wok, heat the oil over medium-high heat and then stir-fry the shrimp for 2-1/2 minutes. Mix in the soy sauce and garlic and continue to cook for 1 additional minute.
Remove the shrimp from the heat, pour in the remaining lime juice and toss.
Transfer the shrimp to a platter, or 4 individual plates, and serve with the dipping sauce.