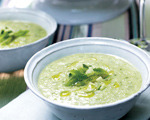 Prep: 1 hr 50 min
Cook Time: –
Total: 1 hr 50 min
Serving: 10 Servings
Green Zebra tomatoes are actually heirloom tomatoes but with a lovely striped pattern and green color. Enjoy them in this tasty Gazpacho made with avocado, jalapeno, fresh mint and cilantro.
Ingredients
2 pounds Green Zebra tomatoes, cored and coarsely chopped plus 1 Green Zebra tomato cut into small wedges for garnish
1 seedless cucumber, unpeeled and coarsely chopped plus finely diced unpeeled cucumber for garnish
1 medium sweet onion, coarsely chopped
1 Hass avocado-halved, pitted and peeled
1 small jalapeño, stemmed and seeded
2 cloves garlic
2 tablespoons freshly squeezed lime juice
2 tablespoons mint leaves, plus more for garnish
2 tablespoons cilantro leaves
1/4 cup extra-virgin olive oil, plus more for drizzling
Salt and freshly ground pepper
Directions
Place half of the chopped tomatoes, half of the cucumber, half of the onion, avocado, jalapeño, garlic, lime juice and 1 cup of cold water into a blender and puree the mixture until smooth. Transfer to a bowl and set aside.
Place the remaining chopped tomatoes, cucumber and onion into the blender with the mint, cilantro and 1/4 cup of the olive oil. Pulse the mixture until combined but still chunky in consistency. Transfer to the bowl with the puree, season with salt and pepper to taste and then stir the mixture well to combine.
Place the gazpacho in the refrigerator, covered, for 1-1/2 hours to chill and then remove and serve garnished with the tomato wedges, diced cucumber, mint leaves and a few drizzles of olive oil. Serve immediately.