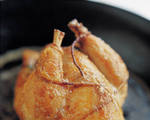 Prep: 12 hr 25 min
Cook Time: 40 min
Total: 13 hr 5 min
Serving: 4
Tangy Barbecue Chicken has teriyaki flavors.
Ingredients
8 chicken pieces
1 garlic clove, crushed
1 teaspoon salt
1 tablespoon lemon juice
1/4 teaspoon black pepper
3/4 cup orange juice
1/3 cup sherry
1/3 cup soy sauce
1 teaspoon ground ginger
Directions
Combine orange juice, sherry, soy sauce, lemon juice, ginger, garlic, salt and pepper. Place chicken pieces in a large zip loc bag and pour in marinade. Seal tightly. Stand bag in a shallow dish in the refrigerator for several hours or overnight. Turn bag over occasionally, so chicken is well coated.
Drain and reserve marinade. Grill the chicken pieces brushing with marinade frequently for about 30 to 40 minutes or until juices run clear.