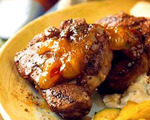 Prep: 10 min
Cook Time: 12 min
Total: 22 min
Serving: 4 Servings
Lamb chops are rubbed with a piquant Tandoori-style spice blend, grilled to perfection and then topped with chutney in this exotic, Indian-inspired dish.
Ingredients
2 tablespoons olive oil
6 cloves garlic, minced
2 teaspoons grated fresh ginger
1 tablespoon garam masala
8 well-trimmed lamb loin chops, cut 1 inch thick (about 2 pounds)
4 pita bread rounds
1/2 cup plain low-fat yogurt
1 tablespoon snipped fresh mint
1/4 cup chutney
Directions
Prepare a grill on medium heat.
Place the olive oil, garlic, ginger, garam masalsa and a pinch of sea salt into a bowl and mix well to combine.
Rub the chops with the spice mixture and then place on the hot grill for about 12 minutes for medium-rare doneness, making sure to add the pita to the grill during the last 2 minutes of cooking.
In the meantime, combine the yogurt and the mint in a bowl and stir well to combine.
Serve the chops on the toasted pitas and top with chutney. Accompany the dish with the yogurt and mint mixture.