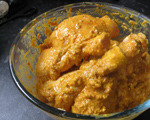 Prep: 5 min
Cook Time: –
Total: 5 min
Serving: Marinade for 1-1/2 pounds chicken
Tandoori is a very popular Indian/Pakistani dish that is made with chicken, yogurt and a mix of spices. Serve this dish with white rice or roasted potatoes, and a bottle of Chardonnay.
Ingredients
1-1/2 pounds boneless skinless chicken breast
1/2 teaspoon coarse salt
1 teaspoon ground cumin
1 teaspoon ground coriander
1/2 teaspoon ground cinnamon
1/2 teaspoon paprika
1/2 teaspoon turmeric
1/2 teaspoon curry powder
1 teaspoon chili powder
8 turns fresh ground black pepper
1 cup plain Greek yogurt
1 tablespoon sweetened lime juice
1 tablespoon finely-minced fresh ginger
1 tablespoon finely-minced garlic
Directions
Place all of the ingredients into a large Ziploc bag and seal well.
Massage the bag to combine all of the ingredients, and then place it in the refrigerator for at least 2 hours, or overnight, to marinate.
Preheat the oven to 400 degrees and then line a baking sheet with foil.
Empty the contents of the Ziploc bag onto the prepared baking sheet and then place in the oven for 20 minutes; serve immediately.