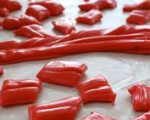 Prep: –
Cook Time: 10 min
Total: 10 min
Serving:
Ingredients
2 cups molasses
1 cup sugar
3/4 cup water
1/8 teaspoon soda
4 tablespoons butter
1 teaspoon vanilla
Directions
Heat the molasses, sugar and water until it reaches hard ball stage. Stir constantly as it cooks.
Remove from heat and add in the butter, soda, vanilla. Mixing only enough to incorporate. Pour into a greased pan.
When cool enough to handle, pull and stretch until it becomes a light color. Stretch into a long rope and chop into small pieces.