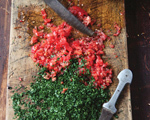 Prep: 20 min
Cook Time: –
Total: 20 min
Serving: Serves 4-6
Tabbouleh Salad is a classic Middle Eastern dish made with bulgur, cinnamon, allspice, tomato and parsley. Serve with grilled meats and fish.
Ingredients
3 tablespoons fine bulgur
1/2 cup water
1 pound ripe tomatoes, cored and minced
3-1⁄2 cups minced flat-leaf parsley
1-1⁄4 cups minced mint leaves
1⁄3 cup fresh lemon juice
5 tablespoons extra-virgin olive oil
1⁄4 teaspoon ground allspice
1⁄4 teaspoon ground cinnamon
4 scallions, thinly sliced crosswise
Sea salt and freshly ground black pepper
Directions
Place the bulgur and the water into a medium-sized bowl, cover and allow to soak for 12 minutes.
Drain and rinse the bulgur and then place in a salad bowl. Top with the tomatoes, parsley, mint, lemon juice, oil, allspice, cinnamon, scallion and a few pinches of salt and pepper to taste. Toss the mixture well to combine and then serve immediately.