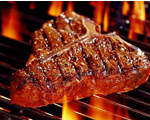 Prep: 30 min
Cook Time: 25 min
Total: 55 min
Serving: 2 Servings
There are other ways to add flavor to a regular steaks besides dousing it in steak sauce. Try using this mix of African-inspired spices, to give your T-bone steak a kick of flavor.
Ingredients
2 T-bone beef steaks, about 1 inch thick
1/2 teaspoon olive oil
1/2 teaspoon salt
2 teaspoons coriander seeds
1 teaspoon cumin seeds
1 teaspoon caraway seeds
2 teaspoons dried rosemary
1/2 teaspoon freshly ground black pepper
1/4 teaspoon ground cinnamon
1/4 teaspoon turmeric
2 teaspoons canola oil
Directions
Preheat your oven to 400 degrees.
Rub each steak on both sides with olive oil and sprinkle with salt. Set aside.
Using a mortar and pestle or an electric grinder, grind the coriander, cumin, caraway, and rosemary, then mix in the black pepper, cinnamon and turmeric.
Sprinkle each steak on both sides with about 1 tablespoon of the spice mixture. Set aside for 20 minutes to absorb spice flavors.
Over high heat, heat a sauté pan or skillet for about 3 minutes. Add the canola oil and sear each steak. When a brown crust forms, flip steak and repeat cooking process on other side.
Place steaks on a broiling pan and put in oven. Cook for approximately 11 minutes for a medium-rare steak and 15 minutes for a medium steak. Serve immediately.