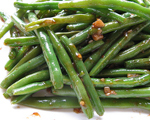 Prep: 20 min
Cook Time: 12 min
Total: 32 min
Serving: 4 Servings
The perfect way to spice up a boring side dish of green beans, this Chinese-inspired dish pairs well with cashew chicken.
Ingredients
1 pound green beans
1/4 cup of water
2 tablespoons soy sauce
1 tablespoon rice vinegar
2 teaspoons sugar
1/4 teaspoon hot chili flakes
1/4 teaspoon white pepper
1 tablespoon olive oil
2 tablespoons minced garlic
2 tablespoons minced fresh ginger
1 tablespoon sesame seeds
Directions
Rinse the beans off in cold water and drain. Trim off the ends and then cut into 3-inch pieces.
Mix together the soy sauce, rice vinegar, sugar, chili flakes, and white pepper in a medium bowl with a whisk.
Place a large sauté pan over medium-high heat. When the pan is hot, add the beans along with 1/4 cup of water and cook, covered, for 4 minutes.
Remove the cover and continue to cook the beans until all of the water has evaporated, stirring occasionally.
Add in the oil, garlic and ginger and cook for 1 minute and then pour in the soy spice mixture. Continue cooking the beans for 3 minutes until the sauce thickens. Sprinkle with the sesame seeds and serve.