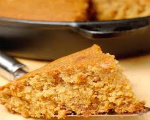 Prep: 10 min
Cook Time: 25 min
Total: 35 min
Serving: 6-8 servings
Old fashioned syrup breasd recipe.
Ingredients
1 teaspoon vanilla
1 cup shortening
1 cup sugar
1 cup cane syrup
5 cups flour
1 teaspoon allspice
1 teaspoon cloves
1 teaspoon ginger
1 teaspoon cinnamon
1 cup water
3 teaspoons baking soda
Directions
Preheat oven to 350 degrees Fahrenheit. Grease a 15x10x1 inch pan.
Combine the vanilla, shortening, sugar and syrup in a bowl. In another bowl combine the flour, allspice, cloves, ginger and cinnamon.
Bring the water to a boil and add the baking soda. Mix together the sugar and flour mixtures, gradually add the water, stirring until well blended.
Pour into the prepared pan and bake for 20-25 minutes.