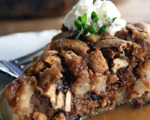 Prep: 10 min
Cook Time: 35 min
Total: 45 min
Serving: Makes one 9-inch pie cake
Use fresh and seasonal apples to make this autumn-inspired, sweet and spicy pie cake. Serve with a scoop of ice cream, or alternatively, top a slice on some warm caramel sauce.
Ingredients
1 cup sugar
1 egg
1/4 cup butter, melted plus some to grease pan
1 teaspoon baking soda
2 teaspoons buttermilk
1 cup all-purpose flour
1 teaspoon cinnamon
1 teaspoon ground nutmeg
1/4 teaspoon ground cloves
1/4 teaspoon ground allspice
1/4 teaspoon salt
2-1/2 cups chopped, peeled apples
1 cup broken, toasted pecans
Directions
Preheat your oven to 350 degrees and grease a 9-inch pie dish with butter.
Put the baking soda and the buttermilk into a bowl, stir well and then set aside.
Sift the flour, cinnamon, nutmeg, cloves, allspice and salt into a bowl and set aside.
Place the egg and sugar into a bowl and whisk together until thoroughly combined. Slowly add the melted butter to the bowl, whisking vigorously to blend, and then pour in the buttermilk mixture. Add the flour mixture to the bowl, mix until just combined, and then fold in the apples and nuts.
Transfer the batter to the prepared dish and place in the oven for 35 minutes, or until a toothpick inserted into the middle of the cake tests clean.