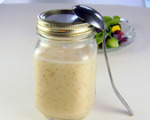 Prep: 5 min
Cook Time: 4 min
Total: 9 min
Serving: Makes about 1-1/2 cups
As its name implies, Vidalia onions are sweet. Feel free to use another kind of onion in this dressing recipe but make sure that it too is of the sweet variety as not all white onions are.
Ingredients
1/2 large vidalia onion
1 tablespoon water
1/4 cup vegetable oil
6 tablespoons white vinegar
8 tablespoons granulated sugar
1-1/2 teaspoons ground dry mustard
1/4 teaspoon garlic powder
1/2 teaspoon celery seed
1/2 teaspoon salt or salt to taste
1/8 teaspoon ground black pepper or pepper to taste
Directions
Using a sharp knife, cut 1/2 inch off the top and bottom of the onion and then pierce with the tip of the knife in several places. Put the onion into a microwave-safe bowl, add the water, cover and cook on high for 4 minutes.
Once the onion is cool enough to handle, peel it and then place it into a blender. Process the onion until smooth and then add the oil, vinegar, sugar, mustard, garlic powder, celery seed, salt and pepper, and continue to blend the mixture until thoroughly combined. Serve immediately.