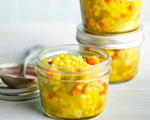 Prep: 20 min
Cook Time: 35 min
Total: 55 min
Serving: Makes about 10 half-pints
This corn relish is made with fresh corn cut from the cob and a mix of red and green sweet peppers.
Ingredients
16 fresh ears of corn
2 cups water
3 cups chopped celery (6 stalks)
1-1/2 cups chopped red sweet pepper
1-1/2 cups chopped green sweet pepper
1 cup chopped onion (2 medium)
2-1/2 cups vinegar
1-3/4 cups sugar
4 teaspoons dry mustard
2 teaspoons pickling salt
2 teaspoons celery seeds
1 teaspoon ground turmeric
3 tablespoons cornstarch
2 tablespoons water
Directions
Remove the corn kernels from the ears of corn and place into a large pot. Add 2 cups of water, bring the mixture to a boil and then reduce the heat to medium-low. Simmer the mixture, covered, for 6 minutes and then drain.
Place the cornstarch in 2 tablespoons of cold water and stir to combine.
Add the celery, red and green sweet pepper, onion, vinegar, sugar, mustard, pickling salt, celery seeds, and turmeric to the pot and mix to combine. Cook the mixture over medium-high heat for 6 minutes and then add the cornstarch mixture. Cook for an additional 2 minutes.
Carefully ladle the corn mixture into canning jars up to 1/2-inch from the top, add the lids and then place in a boiling-water canner for 15 minutes.
Remove the jars and store in a cool and dry location until ready to use.