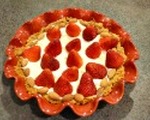 Prep: 15 min
Cook Time: 10 min
Total: 25 min
Serving: 6-8 People
With spring just around the corner, it's hard not to get excited about sunny days, fresh flowers and plump, juicy produce! If you are in need of a recipe to wake you up from the winter blues, whip up this absolutely gorgeous (and delicious) strawberry tart! Made with lighter cream cheese and a little thinner than a cheesecake, this creamy tart only tastes indulgent. Pair with a bit of freshly whipped cream and it'll be spring in no time (at least in your head).
Ingredients
FOR THE CRUST
36 graham crackers
2 tablespoons sugar
2 tablespoons melted butter
4 teaspoons water
Cooking spray
FOR THE FILLING
2/3 cup light cream cheese
1/4 cup sugar
1/2 teaspoon vanilla
1/2 teaspoon almond extract
FOR THE TOPPING
Almonds, chopped
Fresh strawberries
Directions
Preheat oven to 350 degrees F.
To prepare crust, place crackers in a food processor; process until crumbly. Add two tablespoons sugar, butter and water; pulse just until moist. Place mixture in a 9-inch round removable-bottom tart pan coated with cooking spray.
Bake for ten minutes or until browned. Cool completely before you put filling in it.
To make the filling: Mix cream cheese, 1/4 cup sugar and extracts. Spread filling onto cooled crust. Cut stems off strawberries and decorate the top of the filling. Add almonds and enjoy!