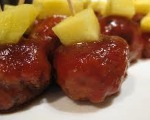 Prep: 20 min
Cook Time: 2 hr
Total: 2 hr 20 min
Serving: 8-10 servings
Delicious sausage with pineapple and apricot slow cooked appetizer.
Ingredients
1 (1 pound) link cooked Polish sausage, skinned
1 (1 pound) hot bulk sausage
1 (8 ounce) can crushed pineapple with juice
1 cup apricot preserves
1 tablespoon marinade for chicken
1-1/2 cups packed brown sugar
Directions
Slice the sausage links into 1/2-inch chunks. Shape the bulk sausage into 1-inch balls and brown in a skillet.
Combine the sausages with the remaining ingredients in a greased slow cooker. Cook covered for 1-1/2 to 2 hours on low.