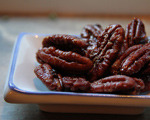 Prep: 10 min
Cook Time: 30 min
Total: 40 min
Serving: Makes 3 cups
Halved pecans are first toasted until fragrant and then tossed with butter, sugar, sea salt and paprika, and cooked until caramelized.
Ingredients
3 cups pecan halves
1 tablespoon canola oil
1/4 cup sugar
1 1/2 teaspoons coarse sea salt
1 teaspoon paprika
Directions
Preheat your oven to 300 degrees.
Place the pecan halves in a single layer on a baking sheet and cook in the oven for 25 minutes, mixing every 10 minutes to ensure even cooking.
Place the oil in a large sauté pan over medium heat. Once hot, add the toasted pecans and toss to coat. Stir in the sugar and salt and cook the nuts for 5 minutes, stirring constantly.
Take the pan off the heat but continue to stir the mixture for 2 more minutes. Sprinkle in the paprika powder, toss to coat and then allow the nuts to fully cool before serving.