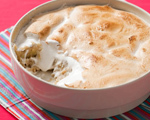 Prep: 15 min
Cook Time: 1 hr 15 min
Total: 1 hr 30 min
Serving: 4 Servings
This fluffy and light concoction is a delicious sweet and savory blend of flavors. Not only do kids enjoy eating it but they usually like helping prepare it as well.
Ingredients
1/3 cup dry bread crumbs
3 pounds sweet potatoes
1/2 stick (1/4 cup) unsalted butter, melted
1/2 cup heavy cream, warmed
2 tablespoons pure maple syrup
1/2 teaspoon ground cinnamon
1/8 teaspoon ground nutmeg
1/2 teaspoon salt
1-1/2 cups marshmallow fluff
Directions
Preheat the oven to 400 degrees and lightly butter a ceramic pie plate. Dust with the breadcrumbs and set aside.
Pierce each potato a few times with a knife or fork, wrap in some aluminum foil and then place in the oven for 1 hour.
Once the potatoes are cool enough to handle, cut in half and scoop out the flesh with a spoon; discard the skins. Mash the potatoes until smooth and then add the butter, cream, syrup, spices and salt. Continue to mash to combine and then transfer the potato mixture to the prepared pie plate.
Spread the potato mixture evenly on the bottom of the plate and then top with the marshmallow fluff. Place the pie in the oven for 5 minutes and then remove and serve.