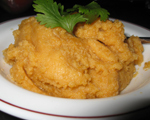 Prep: 15 min
Cook Time: 30 min
Total: 45 min
Serving: Makes 2 pints
Delicious slathered on toast or freshly baked bread, this recipe uses Caribbean sweet potatoes called boniato.
Ingredients
Zest and juice from 1 lemon
4 whole cloves
1-1/2 pounds Caribbean sweet potatoes (boniato), peeled and diced
2 cups sugar, or to taste
1 cinnamon stick, 3 inches long
1/2 vanilla bean, cut in half lengthwise
1/4 teaspoon freshly grated nutmeg
Directions
Place the zest along with the cloves in some cheesecloth and tie to close.
Place the clove packet, lemon juice, 4 cups of water, cinnamon stick, vanilla bean, and nutmeg into a large pot and place over high heat.
Once the mixture begins to boil, reduce the heat to a simmer and cook for 30 minutes, skimming off any foam from the surface and discarding.
Remove and discard the clove packet then allow the jam to cool before serving. Jam keeps well for 5 days in the refrigerator.