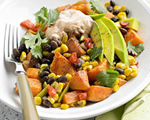 Prep: 10 min
Cook Time: 14 min
Total: 24 min
Serving: 4 Servings
This sweet and crispy hash is topped with a creamy dollop of sour cream and chipotle salsa.
Ingredients
1 large sweet potatoes, peeled and quartered (about 1 pound)
Sea salt
1 tablespoon vegetable oil
1 11-ounce can Southwestern-style corn with black beans and peppers, rinsed and drained
1/2 cup dairy sour cream
2 tablespoons chipotle salsa
3 medium avocado, peeled, pitted and slicedv
Cilantro and chili powder to garnish
Directions
Put the sweet potatoes in the microwave and cook on high for 8 minutes until tender.
Once cool enough to handle, cut into chunks and sprinkle with sea salt.
Place the oil in a large sauté pan over medium heat, add the potatoes and cook for 3 minutes until crispy. Stir in the corn and cook the mixture for an additional 3 minutes.
In the meantime, combine the sour cream and the chipotle salsa.
Serve the sweet potato grits topped with the sour cream mixture and the sliced avocado, and garnished with a bit of cilantro and chili powder.