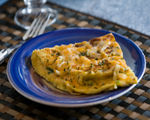 Prep: 15 min
Cook Time: 24 min
Total: 39 min
Serving: 4
Serve this dish during the holidays for a change from the plain sweet potato.
Ingredients
8 large eggs
1/4 teaspoon salt
1/2 teaspoon black pepper
1/4 cup olive oil
2 cups shredded sweet potatoes
1 bunch scallions, chopped (2 cups)
1/2 cup finely chopped fresh parsley
4 ounces cream cheese or Boursin garlic-herb cheese, chilled
Directions
Put oven rack in middle position and preheat oven to 375°F.
Whisk together eggs, salt, and pepper until just combined.
Set aside.
Heat oil in an ovenproof 9- to 10-inch heavy nonstick skillet over high heat until very hot but not smoking. Add potatoes and scallions to oil, stirring once, then cover and cook, stirring occasionally, until beginning to brown, about 9 minutes.
Pour beaten eggs evenly over potato mixture, sprinkle parsley and crumble cheese over eggs.
Transfer skillet to oven and bake frittata, uncovered, until set and just cooked through, about 15 minutes. Invert a plate over skillet and, holding them together with oven mitts, invert frittata onto plate and serve immediately.