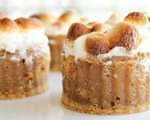 Prep: –
Cook Time: –
Total: –
Serving:
As a dessert, sweet potatoes add a tangy harvest time twist to a classic favorite.
Ingredients
1 cup unsalted butter, softened
2 cups dark brown sugar, packed
3 cups all-purpose flour
4 large eggs
1-1/2 cups sweet potato puree
1 teaspoon salt
1 teaspoon ancho chile, ground
1 teaspoon canela, ground or ground cinnamon
1 (10-1/2 ounce) bag of mini marshmallows
Cooking spray
Directions
Preheat oven to 350 degrees F. Grease two 8 x 8-inch baking pans and set aside.
To prepare the sweet potato puree, peel the potatoes and cut each into 6-8 smaller pieces. Put potato pieces in a large pot of enouhg boiling water to cover the pieces and boil for approximately 20 minutes or until fork tender. Remove cooked potato pieces from heat, drain, and set aside to cool slightly
Cream the butter and sugar together until light and fluffy. Add the eggs and continue mixing as you add the cinnamon, salt, ancho chile, and flour. Mix just until a uniform batter forms.
When the sweet potato pieces are cool enough to handle, mash with a fork and fold the puree into the batter. Pour the batter into your prepared pans and bake for 28-30 minutes, or until a toothpick inserted into the center of the cookie bars comes out clean. Remove the baked bars and top with marshmallows.
Set your oven's broiler to its highest setting. Put your marshmallow-topped bars on a rack under the broiler, but at the bottom of the oven so that there is at least a foot of space between the bars and the broiler flame. Keep watch. You want the marshmallows to be a dark golden brown on top – as soon as they're the color you like, remove the pans to cool.