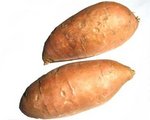 Prep: 25 min
Cook Time: 1 hr 20 min
Total: 1 hr 45 min
Serving: 6
Sweet Potato Casserole with Pecans can be served any time you need a fabulous side dish.
Ingredients
2 1/2 pounds sweet potatoes, scrubbed
2 large eggs, lightly beaten
3 tablespoons butter, melted
2 tablespoons dark brown sugar
1 teaspoon kosher salt
1/2 teaspoon cinnamon
1/2 teaspoon ground ginger
pinch nutmeg
freshly ground black pepper
1/4 cup pecans, chopped
Directions
Place sweet potatoes on a aluminum lined baking sheet. Prick with fork 2 or 3 times. Bake at 400 degrees F for 45 to 50 minutes or until tender. Set aside to cool.
Reduce oven temperature to 350 degrees F. Scoop the sweet potato out of their skins into a medium bowl. Discard skins. Mash the potatoes until smooth. Add the eggs, butter, brown sugar, salt, cinnamon, ginger, nutmeg and pepper to taste. Whisk mixture until smooth.
Butter an 8 inch square baking pan. Pour the sweet potato mixture into the pan and sprinkle top with pecans. Bake until puffed, about 30 minutes. Serve immediately.